Grams
from
Talk..To..Grams
has yet again bestowed me with gifts and treats. She has passed on the "Colors Of Friendship Award"! Thank you Grams! I am honored, and I don'take any of the kind words, nice posts, special gifts and awards for granted. I am glad that so many of you feel that in such a short time I have made such an impact on the blogosphere! I will pass this on later on today!
Grams is so sweet and if you have not already done so check out her blog
here
!
Thanks again Grams!! This bunch of virtual flowers are for you!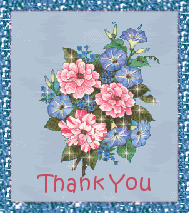 Glitter Graphics & Comments
Blessings!